Buzz the ultimate Communication resource
Orthopedics
Explore a sample narrative of an Orthopedic patient's journey through their injury and recovery. See the power of the patient centric workflows that are enabled by Skyscape's Buzz, a comprehensive communication and collaboration platform.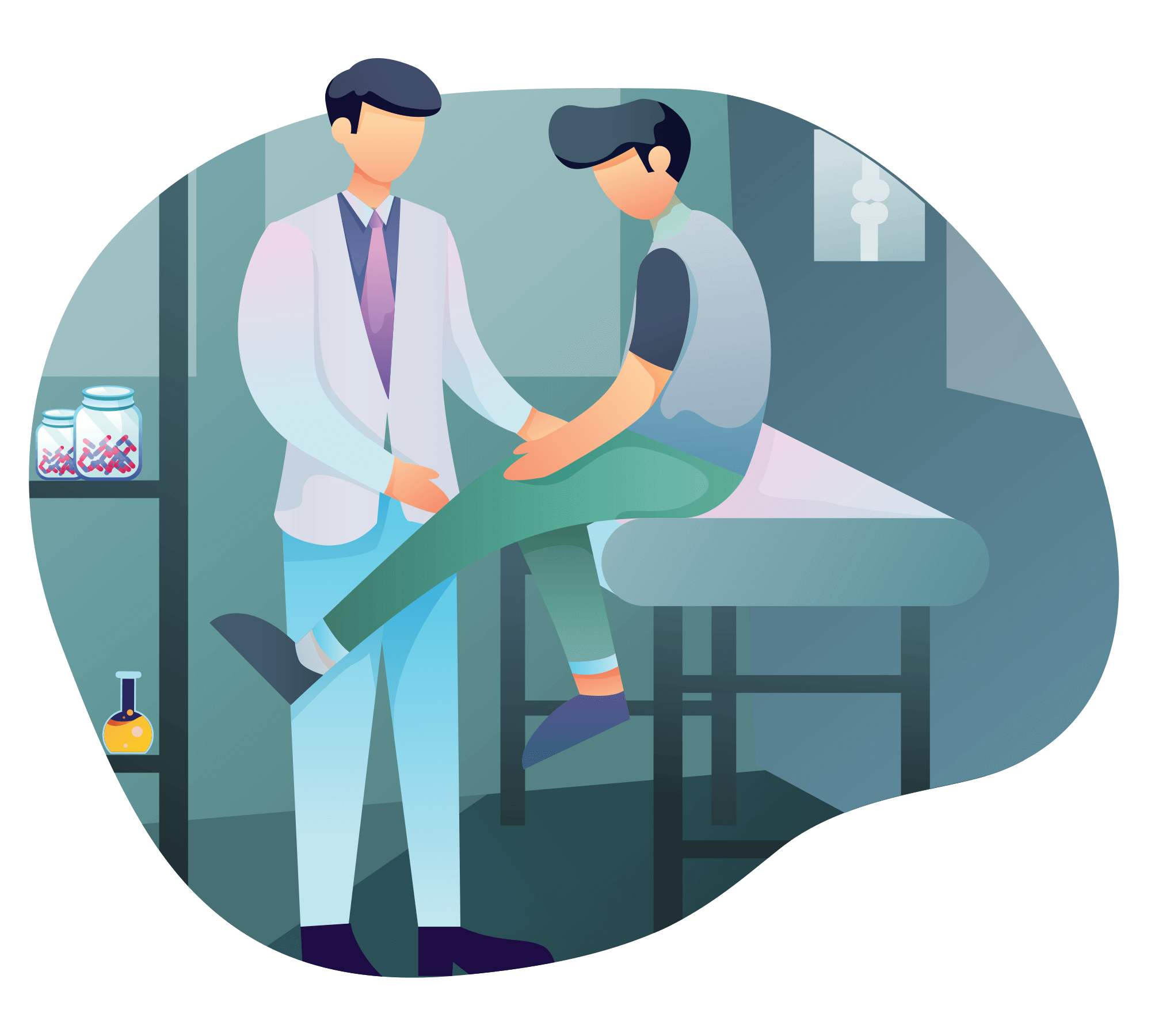 TORN ACL TO BACK ON THE ICE
Patient-Centered Workflow
Effective Patient Engagement with Buzz
Kevin Goldberg was 6 when he joined his first hockey team. Though he never ended up playing professionally, he still played every week, even at the age of 52. During a rec game, he was checked into the boards and felt his knee buckle beneath him. A loud pop released waves of pain through his leg. Sport was how he blew off steam after a long week as a circuit court judge, and he couldn't imagine life without it.
Read More
At the Gold Cross ER, Dr. Williamson referred Judge Goldberg to Dr. Hanson at Sycamore Orthopedics. Sycamore's physicians operated on some of the best athletes in the country, including the Chicago Bears quarterback. If Judge Goldberg was going to be able to play again, Dr. Hanson would give him the best chance.
Gold Cross used EPIC and Sycamore used Athenahealth, but thankfully, both teams used Buzz which made sharing Electronic Health Records simple via BuzzFlow.
Dr. Hanson used Buzz on a tablet to pull up Judge Goldberg's radiology scans while he discussed the upcoming operation. "After the surgery, the real work begins," Dr. Hanson explained. "If you stick to the physiotherapy, you'll be back on the ice in just over six months." As they spoke, the doctor entered notes directly into the EMR with Buzz.
Dr. Hanson had some doubts about the meniscus involvement, so reached out to a colleague at Western Orthopedics. Dr. Josi didn't have Buzz, but was able to use a hyperlink to join Dr. Hanson for a BuzzVideo chat, no download required. Dr. Hanson used BuzzLink to share the scans with Dr. Josi in real time. Like he thought, Dr. Josi wasn't too concerned with the meniscus either, but Dr. Hanson was glad he was able to check, especially when it was so easy.
Judge Goldberg's surgery was the third on the schedule for Monday's OR. Dr. Hanson anticipated a smooth surgery and that's what he got. He was sutchering up in just under 80 minutes. Judge Goldberg was in the recovery room by 8:30 a.m.
After the operation, Dr. Hanson personally recommended Judge Goldberg's new physical therapist, Peter. He worked out of the Illinois Orthopedic Institute, just 15 minutes from Judge Goldberg's home, and, like Dr. Hanson, frequently worked with professional athletes. Judge Goldberg was a little surprised to be getting the pro-athlete treatment, but he'd never felt as confident in his healthcare.
Referrals were so simple with Buzz. Dr. Hanson's office sent the PT approval, along with Judge Goldberg's insurance info, all via BuzzFlow. Insurance processing and e-signatures were a breeze.
The first week Judge Goldberg couldn't even fully extend his leg, never mind stand on his own. But, just a month later, Judge Goldberg no longer limped to the bench in court. Just two months in, Peter told Judge Goldberg he had reached "Phase III." They would focus on building leg strength from that point on.
Peter had started a Buzz group chat with Judge Goldberg's teammates, and sometimes used it to send videos of Goldberg's progress. "He'll be back on the ice in no time!" said Peter. When the judge was in Chicago visiting his daughter, Peter was able to hold a virtual PT session via Buzz video.
It had been a long process but Judge Goldberg was well on his way to being back on the ice.
Learn More
The narrative of a sample Orthopedic patient demonstrates the power of the patient centric workflows that are enabled by Skyscape's Buzz, a comprehensive communication and collaboration platform.