Buzz the ultimate Communication resource
HIPAA-Secure Telehealth. Text. Voice. Video.
Tired of juggling phones, email, faxes, and pages? Buzz offers a single, unified interface for all your communication, with video and voice conferencing, text, and easy-to-use collaboration tools. Get started with a free download for clinicians and medical staff.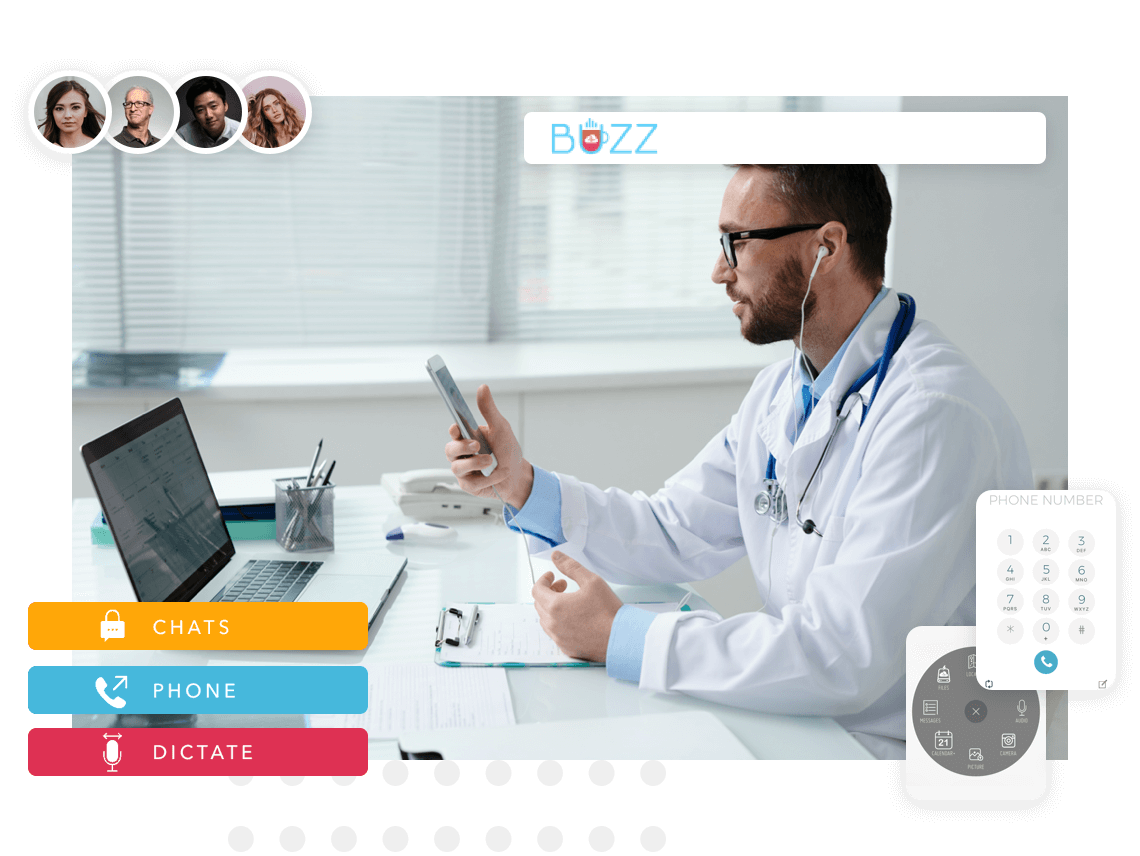 Buzz is a HIPAA-secure platform for care team collaboration and patient communication, supporting commonly used modalities like video conferencing, private calls, texts, dictation, audio/video, images and reports sharing.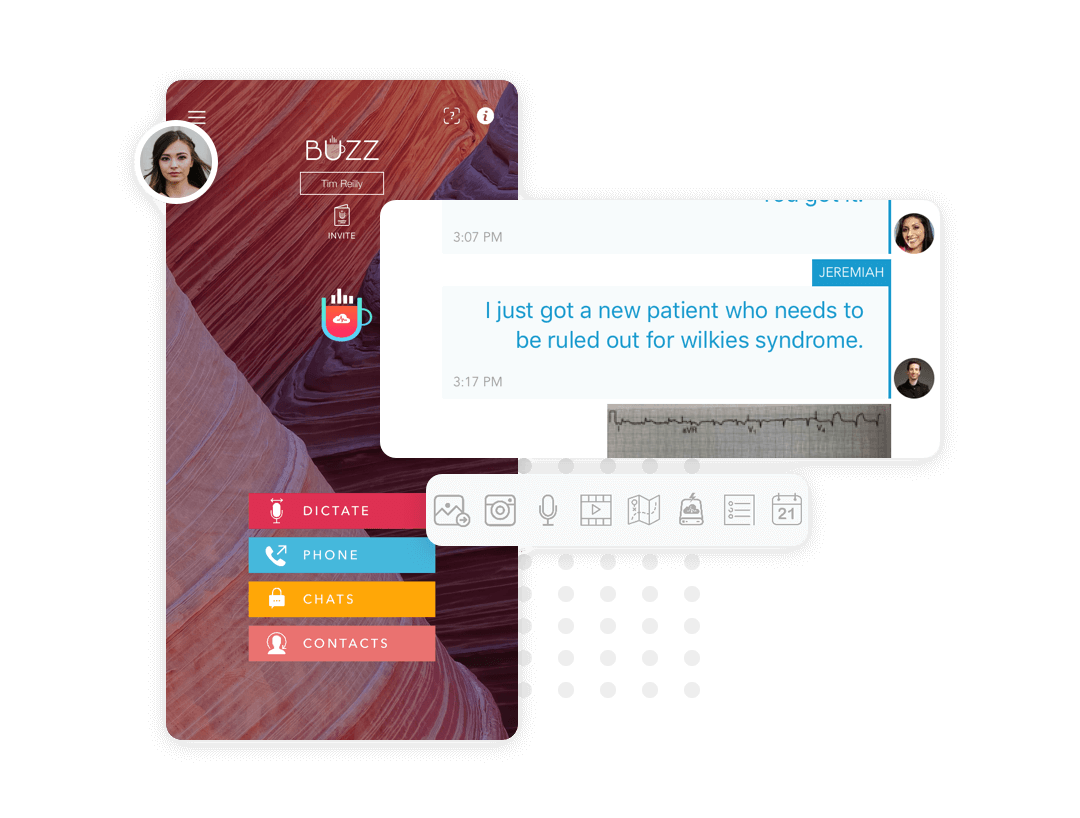 Messaging and Sharing in an Instant
By integrating instant communication into your workflow, you'll be able to decrease re-hospitalizations, radically improve handoff procedures and record keeping. Whether sharing an X-ray with a coworker or making sure a patient is keeping up with their care plan, HIPAA secure texting makes everything a breeze.
Features to Streamline Your Workflow
Buzz has been developed with the healthcare professional in mind. Buzz feature-rich to dramatically improve the efficiency of your communication.

Secure Messaging
Send text messages using end-to-end HIPAA-secure encryption. Share images, videos, dictations and more.

Priority Messaging
Create a secure and trusted network of healthcare professionals and staff who are part of your daily workflow.

Collaboration
Create groups/teams that mimic your normal workflow allowing for information to be shared seamlessly and efficiently.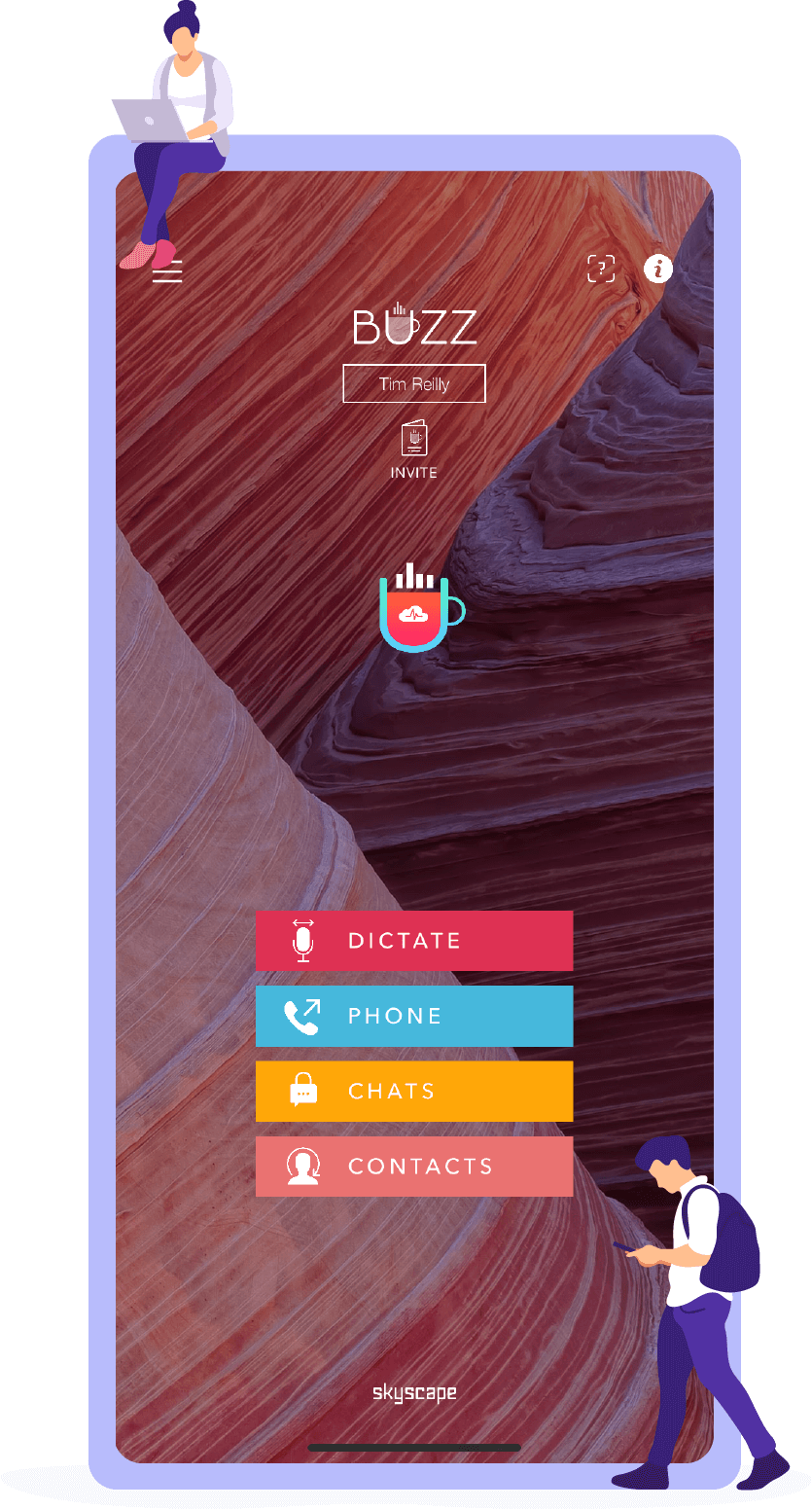 Unique Phone
Get your own personal Buzz phone number. Send or receive calls from anyone – landline or mobile.

Dictation
Record dictations to be sent to an individual or a group. Send messages immediately or at a specified time.

Customer Support
Our support team is ready to help you and your team utilize this communication platform to the fullest.
What Customers Are Saying
Is Buzz HIPAA-Secure?
Yes! All information sent over Buzz is encrypted using bth Public and a Private key. That means only the sender and receiver can read the information.
Can I use Buzz on multiple devices?
Yes. Your account will have a unique account ID, password and Pass Phrase. With these you can use Buzz on multiple devices. Your information will be synced up across all the devices. Sign In to try it!
Who should use Buzz?
Buzz is ideal for any group or team within a medical practice or healthcare setting that need to communicate with each other securely and confidently.
What platforms does Buzz run on?
For the mobile platform, Buzz runs on both iOS (iPhones and iPads) and Android devices. Buzz can also be accessed from a browser.
How do you make money?
Buzz is a free app with an express intent to have universal communication without the artificial walls or boundaries. You can actively decide to support our efforts with specifically upgraded non-essential features via in-app purchases.
Increase Patient Satisfaction, Efficiency, and Profits, While
Mastering HIPAA Compliance
Please note that, even during the COVID-19 pandemic and other public health emergencies, HIPAA Privacy and Security Rules still apply. While there is a temporary HIPAA waiver in place, it only covers limited instances outlined here:  hhs.gov. The waiver applies specifically to areas covered by the public health emergency declaration, and ONLY for hospitals that have implemented their disaster protocols. Protecting patients PHI remains an imperative for everyone involved in the care delivery process across every setting. Learn how you can increase patient satisfaction, care efficiency, and profits while mastering HIPAA compliance. View our HIPAA Guide below.