Hi. How can we help?
Introducing Buzz! Buzz is a HIPAA-secure platform for care team collaboration and patient communication, supporting commonly used modalities like video conferencing, private calls, texts, dictation, audio/video, images and reports sharing.
See how Buzz can help you. Since our launch our users have sent millions of HIPAA secure messages that have helped them increase revenue and reduce costs. Don't hesitate to ask any questions. Contact Us
Buzz is a free app with an express intent to have a universal communication without the artificial walls or boundaries. Even though Buzz is a free App, you can actively decide to support our efforts with specifically upgraded features available via in-app purchases. To use such features, you will have a few options within the app settings.
We are committed to having a universal and democratic experience between HCPs across different silos that prevent adoption and hence limit a seamless experience to Healthcare consumers and patients. So yes, Buzz will always be free with the current functionality that is available.
In future, there might be premium versions of Buzz that provide additional features – in that case we will charge a subscription fee for such features but the users will not be forced to use those features.
For the mobile platform, Buzz runs on both iOS (iPhones and iPads) and Android. Buzz can also be accessed from a browser.
Yes. Your account will have a unique account ID, password and Pass Phrase. With these you can use Buzz on multiple devices. Your information will be synced up across all the devices.
We take security and privacy of electronic PHI very seriously. Our Buzz communication platform is HIPAA secure and your patient's data is always safe with us. Buzz has Login Access Control with User Authentication. All transmitted text messages, documents, images and videos have end-to-end encryption. Buzz also provides an extra layer of security by using a passphrase whereby all transmitted messages are encrypted using a passphrase know only to the user. This ensures that the transmitted information can ONLY be viewed by the sender and the recipient on authenticated devices. Finally, all hosting services are ISO/IEC compliant and our staff members are fully trained on HIPAA policies and procedures
These popular messaging platforms are missing many safety measures and controls required by HIPAA to make sure that the confidentiality, integrity, and availability of ePHI is not jeopardized. HIPAA requirements include user authentication, login access to the app, audit controls, data integrity controls, disaster recovery plans and staff trained on HIPAA policies among other things. Skyscape ensures that all HIPAA requirements are met. We have built BUZZ specifically to address the special needs of the healthcare community. Even the workflow is tailored for healthcare staff to get the most out of this HIPAA-secure messenger.
7. Manage Profile
If you're not interested in receiving Buzz related communications from Skyscape, please follow these steps to unsubscribe:
Go to https://buzz.skyscape.com/manage/"your-email" (Without the quotation marks)
Sign in with your Buzz credentials.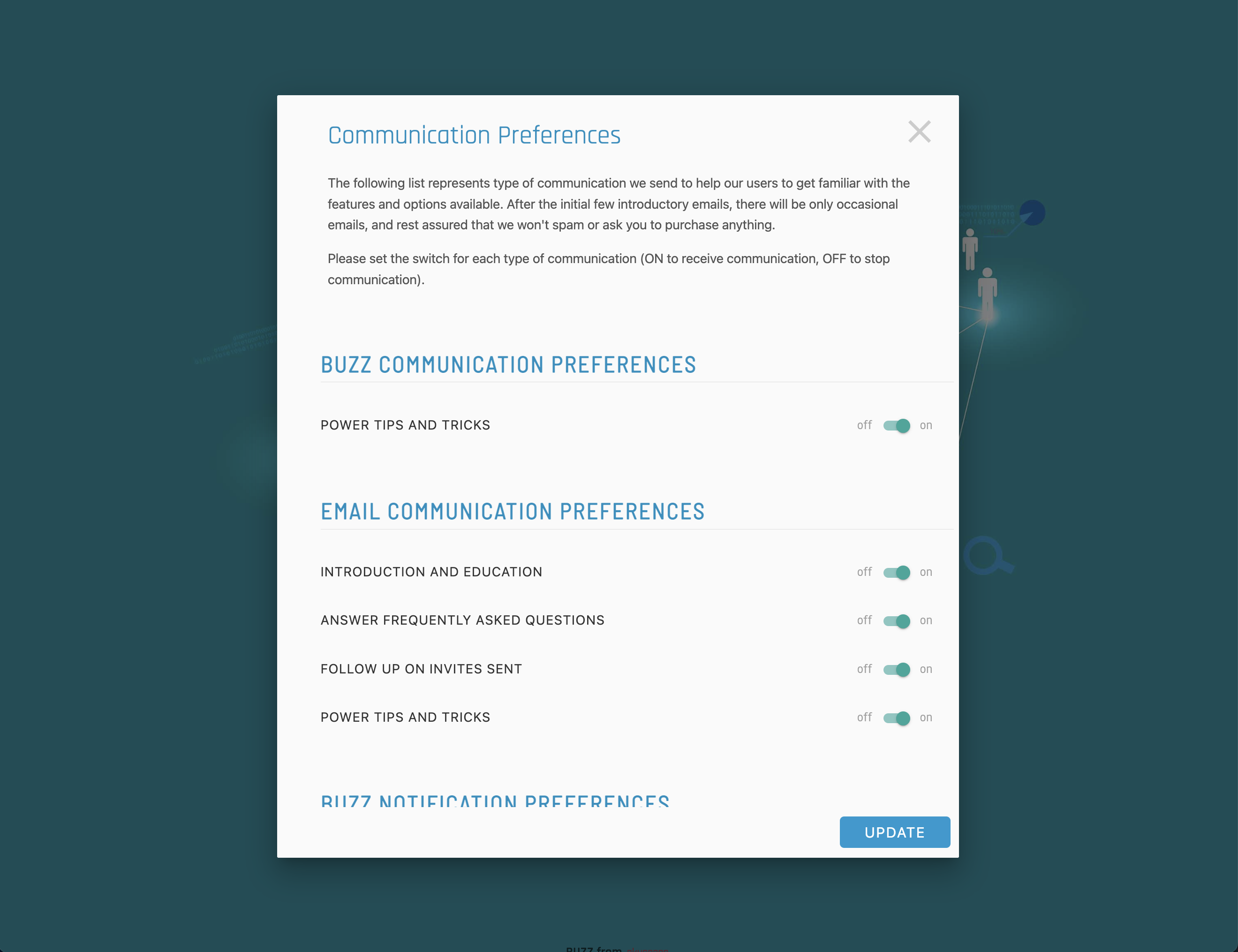 Toggle your preferred communication preferences for both email and in app notifications. Update when finished to save chosen preferences.
If you wish, we can help you to unsubscribe, please send an email with 'Unsubscribe from Buzz Tips Emails' to support@skyscape.com – it may take up to 72 hours for this to be effective.
8. Buzz Organizations
Buzz Organizations gives an enterprise administrative controls required to ensure compliance with HIPAA policies.
1. Admins of organizations can invite other users to join the organization. They can add or remove users.
2. Messages exchanged between members of the organization are visible to the members as long as
they are part of the organization.
The moment they leave the organization, they can no longer view those messages.
3. Groups can be linked to an organization.
In this scenario, only members of the organization can be added as members of the group.
Similar to 1:1 conversation above, the users can view the messages only until they are members of the
organization.
The moment they leave the organization, they can no longer see the group messages.
4. When a user leaves an organization, they are also removed from all the groups linked to the
organization.
Yes, we do offer a BAA agreement. Our Sales Team will be in touch to execute the agreement as might be required by your organization.